Egg and the Hameggattic Sisterhood
A girl-empowering fantasy adventure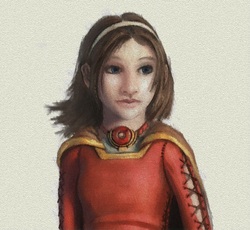 Hi, everyone, I'm Egg. This is a painting my Grammy did of me after I got back from Aerianna. She's a very good artist - almost as good as Sassi (you get to meet her in book 8). I'm not wearing my flying suit . . . but you'll find out why in Book 12.

Anyway, I want to give you a quick idea of what happened to me . . . and what you will read about. Here goes - my Grammy gave me a flying suit, a ring, a bracelet and a necklace. When I figured out the magic of the jewelry my dream friend Dazzle asked me to go to Aerianna (her world) and fight a bad guy named Mobius. So me and my best friend Sylvia said okay.

When we got there, a talking tree told me to recruit more girls for the sisterhood. Somehow I found five that would help. K'ssss and Soo' are sea serpents, Aeri'elle and Bl'azzz are dragons and Sassi is human - but with green skin (and she's beautiful, not that it matters). The seven of us went on our Quest and Oh My Gosh did we get into a lot of trouble. Grammy said I shouldn't tell you any more and that you have to read about it. I hope you do so you can email me or write on my Facebook wall and tell me what you think. Bye for now.
---
---
The Story of Egg and the Hameggattic Sister's First Quest
Our story begins in Flying Girl (book 1) when Egg (our heroine) is given a flying suit and three mysterious pieces of jewelry by her grandmother. Unbeknownst to either, with these gifts, a desperate plan, set in motion a thousand years before, on a planet a trillion miles away, begins its final chapter.

Egg eventually does what no one before her could do - solve the mystery of the jewelry. Along the way, she struggles with the transition from an ordinary nine year old into Flying Girl. The effort to balance her normal self with her super hero alter ego is no easy challenge - but it will help shape her into a legend that will one day span the galaxy.

With the mystery of the jewelry solved, Egg has passed a test she didn't know she was taking. Princess Dazzle, the individual who had created the flying suit, had waited a millennium for this moment. She pleads with our heroine to help save her people. Egg reluctantly agrees and she, Sylvia (her best friend) travel to the Princess's home world of Aerianna.

Egg's first challenge is to recruit into the Sisterhood five more members that represent all three sentient species that live on Aerianna. To that end, she finds two sea serpents, two dragons and one human to join her Quest. Together, they must traverse the Seven Lands guarding the Crystal Mountain - K'actus Kiln, the Colorless Wood, Switch Swamp, the AyBee Sea, the Crystal Forrest, the Maze of Forever and the ominous Never-Glade; each more challenging than the last. Then, they have to do the truly impossible and defeat the evil tyrant Mobius and reclaim the Crystal Egg.

Rose'Alynnia, the series prequel, is the backstory of Princess Dazzle and how the Flying Suit and Jewelry came into being.


---
You can purchase Flying Girl (which includes the prequel Rose'Alynnia)
first to see if you enjoy the story.
FYI, both stories are included in the box set Egg [Box Set #1, Part 1]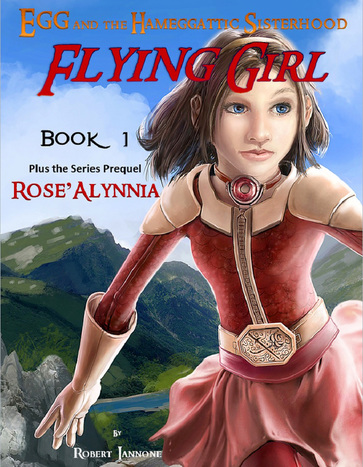 ---
---
© Copyright 2011-2018, Robert Iannone. All Rights Reserved